My process for creating a new yarn colourway is driven either by an idea or an urge to use a particular colour combination – from there my imagination, as well as my dyeing supplies, work together to achieve the end result.
Many of my colours are inspired by something I have seen in nature. A flower or a sunrise are perfect examples of things that spark my creativity. I know that if I can recreate those particular colour combinations that they will be visually pleasing as nature always gets it right.
One of my very first colours was Fuchsia. I saw the pretty little purple, pink & red flowers in my garden and thought I would try to make my own version on yarn. I had to think about the tone, the order and the amount of each colour to get the right balance.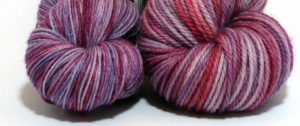 But then there are colours that are more out of a need to fill in a colour gap in my range, wanting to create with a certain dye or a custom request. In these cases often it becomes more about looking at the yarn and the colours and combining what looks good. Then using the colour to inspire a name and back story.
A colourway that stands out that started as an experiment, that then became the catalyst for a collection, is Pure Imagination. I had an idea to try a particular way to dye a skein of yarn and I wanted to use a number of colours together. So I gave it a try. I rolled the skeins into spirals in my dye pan and just poured colours over different sections of the yarn, flipped the skein and repeated. I was not sure how the colours would blend, how much of the skein would end up with colour on it and if the combinations would work. The result was one of my now best selling colours. It also led me to create an entire Wonka series of yarns, that were all much more planned out and designed to be a set.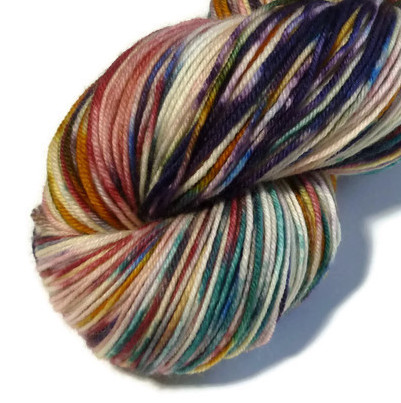 When I first started out dyeing I had only four colours of Jacquard Acid dyes (Pumpkin Orange, Purple, Periwinkle and Russet). These were part of a gift that started me on my entire yarn dyeing adventure. While I was learning it was fun to use these colours on their own and also experiment with how I could mix these colours to create many more. As I started to blend and create my own colours I researched the best dyes to purchase for mixing and different ways to dye yarn. A really interesting article by Space Cadet Yarn discuses their use of only primary colours in their dye process, and it inspired me to broaden my creativity by limiting the number of dyes I would work with. I think it's very powerful to create your own colours and not be limited by pre-manufactured colours.
I chose a selection of primary colours (as listed by Jacquard):
Sun Yellow (primary)
Pink (primary)
Cherry Red (primary)
Sky Blue (primary)
Turquoise (primary)
And then added a few addtional colours to round out my collection:
Emerald
Teal
Brown
Gun Metal
Jet Black
I mix each colour to my own specific depth of shade (not necessarily according to the packet recommendations) and then mix these colours to produce my own end results.
Since then I have not added any additional powered dyes to my range and I don't have plans to add any in the future. I like the challenge of blending my own colours to create something unique, it adds to the creativity and thought process of dyeing. I also believe that by limiting the dyes I use, even though my colours are all quite different, they fit together as they are created from the same 14 colours.